Camille Garro Interiors - Newburyport, MA - Resources
- Our Daily Homework is Researching For More Resources and Better Products -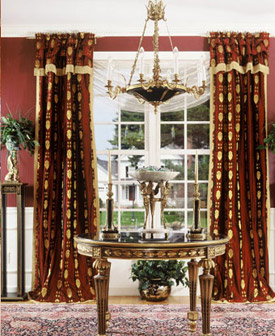 In order to service our clients thoroughly, Camille Garro Interiors is committed to finding the very best value through extensive sources. We have accounts with all the showrooms at the Boston Design Center thereby being able to provide you with product from "trade only" manufacturers such as Brunschwig and Fils, Scalamandre, Osborne and Little, Stark Carpet, and hundreds more! By frequently attending international furniture shows in Italy,England, Paris, and Germany, owner and President, Camille Garro keeps abreast of all the latest design trends. This also gives Camille Garro Interiors a more direct approach to purchasing selected top of the line furniture and accessories!
Camille Garro Interiors has also cultivated close relationships directly with top name manufacturers from all over the country. In doing so, we have been able to avoid the "middle man" and therefore can extend more competitive pricing to our clients. This is ideal for the client who is completely comfortable with purchasing through catalogues and other visual tools.
With all these resources firmly established at our fingertips, Camille Garro Interiors has still found a huge demand for custom designed furniture and accessories. We design a tremendous amount of custom wall units and media centers to accommodate the fast paced tech market. Our clients love the concept of knowing that if they cannot find the comfortable sofa, the right size dining table, the unique wrought iron railing,we can produce whatever they want for a price that fits their budget!
Whether it's window treatments, bedding, rugs, or kitchens, we have a vast source of artisans, furniture makers and fabricators who will transform our own designs to custom products. Our comprehensive training in the arts allows us to sketch our ideas on paper and have them translated to masterpieces by these talented individuals. In turn, our clients truly appreciate having a one of a kind item made exclusively for them!